簡介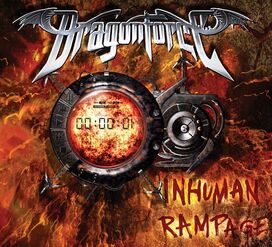 跨越焰與炎(Through the Fire and Flames)是
龍之力史詩
的篇章。
內容
中文
寒冬的清晨,黎明之前,在死亡之火永恆的統治之下,我們朝著戰爭前進。
黑暗降臨,時局艱難。
今夜邪惡的笑聲降臨在這個世界。
艱苦奮戰,為了鋼鐵般的意志我們持續戰鬥,數度屢經荒蕪之地,那散亂的靈魂將會感受到地獄的苦難,而身驅如浪消於岸。 
乘在最歷史中最黑暗的浪上,我們目送他們離開,跨越火焰與痛苦,我們再次明瞭……
在暴風雨降臨前的現在,我們自由地飛翔。在接近荒野時,我們接續使命。
遠在落日的彼方、遠在月光之外,深埋在我們的心與靈魂之中……
等待這天已經過於長久。 因為所有的光明都將消逝,我們感受到一生痛苦地消失在上千個日子當中。
跨越焰與炎!而我們不曾停歇!
當血紅的日子破曉,閃電撕裂天空,他們對天高舉雙手,眼中充斥著怨恨。
回頭奔過朝陽的照耀,我的心燃燒著。
我們從戰敗的土地被放逐,直到那星辰殞落之時。
在你最黑暗的夢中,似乎能確信我們這次的命運,今晚我們將獲得永恆的自由……!
乘在夢的羽翼上,現實是如此的遙遠。
如今我們不再孤單地陷於絕望之中
我迷失在我自己的心中,而你將無法尋找到我
日復一日,這痛苦將永不停止!
如今我們與他們的鮮血站立在我們的雙手上。
如此艱苦地奮戰至今,我們能了解其中的意義嗎?
如果我能,我將擊碎這詛咒留下的封印
為了所有人的自由!
English
On a cold winter morning, in the time before the light, 
In flames of death's eternal reign, we ride towards the fight.
When the darkness has fallen down, 
and the times are tough all right.
The sound of evil laughter falls around the world tonight. 
Fighting hard, fighting on for the steel, 
through the wastelands evermore, 
The scattered souls will feel the hell, 
bodies wasted on the shore. 
On the blackest waves in history, we watch them as they go
Through fire and pain, and once again we know...
So now we're flying ever free, 
we're free before the thunderstorm,
On towards the wilderness, our quest carries on. 
Far beyond the sundown, far beyond the moonlight, 
Deep inside our hearts and all our souls...
So far away we wait for the day, 
For the lights all so wasted and gone;
We feel the pain of a lifetime lost in a thousand days
Through the fire and the flames we carry on!
As the red day is dawning, and the lightning cracks the sky, 
They'll raise their hands to the heavens above 
with resentment in their eyes.
Running back through the midmorning light, 
there's a burning in my heart; 
We're banished from a time in a fallen land, 
to a life beyond the stars.
In your darkest dreams see to believe, our destiny this time,
And endlessly we'll all be free tonight...!
And on the wings of a dream, so far beyond reality; 
All alone in desperation, now the time has gone. 
Lost inside you'll never find, lost within my own mind,
Day after day this misery must go on! 
Now here we stand with their blood on our hands,
We fought so hard now can we understand
Ill break the seal of this curse if I possibly can
For freedom of every man!